It was the year 1990.
Proprietor Bill Mougios, already an established figure in Brighton Le Sands with his two seafood restaurants, dreamt of creating a restaurant that was 'young at heart' and unseen before in Sydney. A place where young and old, singles, couples and families could enjoy without formality. A place where you could enjoy a simple sweet treat, coffee, toasted sandwich or indulge in one of our (soon to be famous) ice creams.
By January 1991, Bay Vista was born and soon became an institution.
It's 'happening' atmosphere helped Bay Vista become one of Sydney's most loved and talked about places. With late night trading and full menu availability until closing, the many patrons (from all over Sydney and afar) were guaranteed satisfaction before going to bed, whether after a night out or finishing the 'late shifts' from work. Apart from offering fantastic food, it was Bay Vista's desserts that made it famous. Ice creams, pancakes, sweet crêpes, waffles and a huge selection of cakes is what put Bay Vista on the (dessert) map!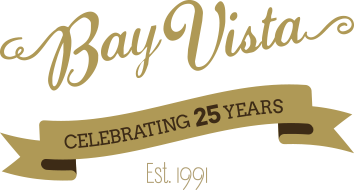 The desire to be unique has helped Bay Vista stand the test of time, with it's presence transforming 'the strip' into a buzzing, cosmopolitan cafe and restaurant precinct.
Today, Bay Vista Dessert Bar & Café is celebrating 25 years of great history. Since our establishment in 1991, it has been an amazing journey for Bill 'The Boss', his family and loyal staff. Many good memories made and many stories left to tell.
This is The Bay Vista story.
So, to all our customers over the past 25 years, a huge thank you for your support and loyalty to our concept. Your continued obsession with what we have to offer is an inspiration to us.
Remember… when you are just a little STRESSED… go ahead, spell it backwards… and see the magic that it brings!
Mid 2017, we open our second Bay Vista
Late August we opened our newest cafe, Bay Vista Parramatta. Continuing the tradition and quality in an exciting new location.